USAIN BOLT - JAMAICA - 9.58sec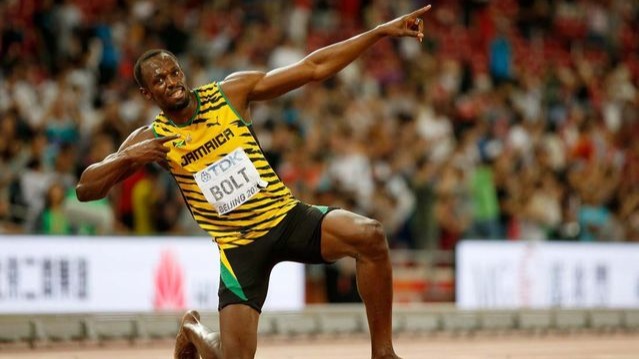 When Wellesley and Jennifer Bolt gave birth in a small town in Jamaica, they never would have imagined that one day their son would rule the world in his own style. In the history of athletics, Usain Bolt is sheer brilliance! This legendary sprinter holds the 'Numero Uno' spot with his power, demeanour, humbleness, antics and record-breaking timings over 100 and 200m sprint. He is the ultimate in Sprinting History! Will anyone ever break his 9.58sec World Record in near future? He is the reigning World Champion for the 100m, 200m and the 4x100m relay. His greatness is measured for dominating as the Olympic Champion in all the three events. Former Olympic sprinter Pablo McNeil and Dwayne Jarret coached the young Usain during school days at William Knibb Memorial High School. He won his first High School Championship Gold Medal in 2001, followed by a silver medal in 200m. Bolt is an eight-time Olympic Gold Medalist winning the 100m, 200m and 4x100 relay at three consecutive Olympic Games – 2008, 2012 and 2016, the feat, which will be hard to replicate. Unfortunately he lost one gold medal, when it was forfeited because of 'disqualification for doping offence' of one of the teammates of the relay team. 2008 Beijing Olympics will always go down in the athletics history, when BOLT created the extraordinary feat of winning the 100m and 200m sprint events with World Record timings. He has won the coveted title of World Champion 11 times from 2009 to 2015. In 2011, BOLT was out of the 100m finals because of a false start. It was 2009, when Usain Bolt created the magnificence of power, grit and determination to better his own World Record of 9.69sec by running the 100m dash in just 9.58sec. Having broken the 200m World Record twice with a timing of 19.30sec in 2008 and 19.19sec in 2009, Bolt has helped Team Jamaica to create three 4x100m relay World Records. The current World Record for the 4x100m stands at 36.84sec in the year 2012. Nicknamed "Lightning Bolt", Usain has been conferred with prestigious awards like the IAAF World Athlete of the Year, Track & Field Athlete of the Year, and Laureus World Sportsman of the Year for four times. In the last race of his track and field career, Usain lost the 100m race to Justin Gatlin and Christian Coleman at the 2017 World Championships. However, he won the hearts of billions with his lighting pose and warm smile. USAIN BOLT is in the CLASS of his OWN!
USAIN BOLT - JAMAICA - 9.58sec is found in...
...