This List is closed to voting and commenting
9 Standout Staples Of Scandinavian Style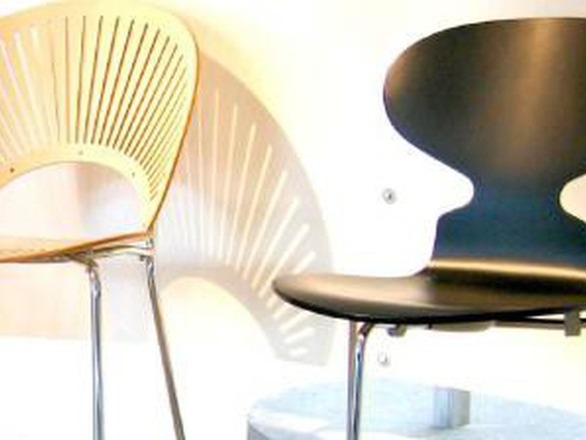 | | | |
| --- | --- | --- |
| &nbsp &nbsp 1 | &nbsp &nbsp 1 | &nbsp &nbsp 0 |
By:
Shekina Aguilar

The Scandinavian aesthetic stems from Nordic culture and is an integral part of the way of life in Norway, Iceland, Denmark, Sweden and Finland. Flowing through furniture, architecture, clothing, and even food, it is characterized by minimalism, functionality and beauty. Whether a coat or chair, the design process combines high quality with timeless appeal, creating a distinctive style that's made to last in every sense.
&nbsp
Sculptural, clean-cut and tailored designs are cornerstones of Scandinavian design, but they've always been incorporated in ways that are easy to wear. Today's most prominent fashion brands have brought effortless elegance further into the aesthetic, making Scandinavians pros at looking done-up and laid-back at the same time. Contemporary brands like Tiger of Sweden have mastered this with sharp, but casual business attire, and feminine labels like By Malene Birger have brought a romantic touch to the edgy Scandinavian look. These luxurious, effortlessly elegant touches relate back to the demands of Nordic lifestyle: mixing urban high fashion with comfort and practicality, for easy movement in the surrounding environment.
&nbsp
Bold and colorful brands like Finnish Marimekko prove that Scandinavians aren't scared to use color; but black, grey, white and neutrals like beige still dominate the Scandinavian style. This ties into practicality again, as these colors are easy to mix and match without drawing too much attention. The clean lines and focus on tailoring, which are both common in Nordic design, are emphasized and more visible with the use of monochrome. Contrasting the harshness of black and white, and the common use of creamy and muted colors bring a softer touch to the silhouettes.
&nbsp
Gender-blurring is characteristic of the Nordic style, and fits alongside comfort, simplicity and practicality. Nordic countries are known to be pioneers in gender equality laws, and the roles and responsibilities of men and women set an example for the world. They have seen many powerful women politicians and even female presidents, and it's almost as common for men to stay at home as it is for women elsewhere. This influences Scandinavian design with unisex elements, as well as masculine influences effortlessly appropriated into women's clothing and feminine influences into men's. Scandinavian style embodies a sense of confidence that brings a natural ease to androgynous looks.
&nbsp
Nature has been a big part of the Scandinavian lifestyle throughout history, and respecting the environment has always come naturally in these countries. In today's world, finding the most sustainable solutions and choosing eco-friendly products are extremely important in design, energy, architecture, and many other aspects of living. For this reason, green values flow from the design process to the choice of material, and are prominent in the identity of most Scandinavian brands. This makes up one of the most appealing characteristics of traditional Scandinavian style, which constantly gains attention, recognition and appreciation worldwide.
&nbsp
Because of the extremely cold winters, practicality in dress is a must, and warmth would be above a garment's stylistic appeal for many. Quality winter coats, warm layers and shoes made from durable and practical materials are important. This isn't only limited to the winter: Scandinavians put comfort first year-round. They are an active people: cycling as well as going from place to place by foot are part of Scandinavian lifestyle, which heightens the demand for comfort and practicality. It's not uncommon to see people cycling around the city in rain boots and waterproof jackets in the fall; while in the summer no one thinks twice before adding a hat to their outfit as protection from the sun. The urban brand Acne, popular for jeans, is a perfect example of a mix of Scandinavian minimalism, quality, comfort and understated style.
&nbsp
Bringing together elements of all the characteristics mentioned so far, wardrobe basics are invested in more than anything. When it comes to accessorizing an outfit or decorating the home, the influence of modern minimalism is strong, and saying "less is more" defines the Scandinavian approach. Rather than building a look around a statement shoe or an eye-catching piece of jewelry, this style is built around a solid, balanced foundation, with no single piece taking away too much attention from another. Common accessories are simplistic and functional watches, as well as small pieces of jewelry.
&nbsp
Reflecting a modest culture as well as Protestant values of rationality and humanity, there is a very democratic side to Scandinavian design. Drawing unnecessary attention to the self, and standing out of the crowd by being flashy or over-the-top are often frowned-upon in Scandinavian countries. This is perhaps part of the reason why the aesthetic favors simple, understated and classic elements. The styles aren't tied to certain demographics or classes, but universally wearable and easy to approach. Furthermore, Nordic brands are known for supplying top quality at the most affordable prices, giving everyone the luxury of incorporating quality craftsmanship and high design into their everyday lives.
&nbsp
Back in the day, you had to be resourceful to survive in the northern atmospheres. Craftsmanship has been passed down from generation to generation in Nordic countries. As a result, attention to detail and quality have become appreciated staples of Scandinavian style today. Scandinavian style has a design philosophy that favors classic elements over trends (which quickly go in and out of fashion), making timelessness an important trait. These go hand-in-hand with functionality, since, for a design to be truly functional, it has to be durable in terms of both quality and style. This doesn't make Scandinavian design boring or plain, however. Nordic countries are known for offering some of the most innovative cutting-edge and finely crafted designs across creative industries.
&nbsp
Coming from an area with dramatic weather conditions, and a history of poverty before industrialization, Scandinavians are traditionally modest, practical, home-oriented and aware of their natural surroundings. These are all qualities that have translated into their design. The popular aesthetic began in the 1950s with architecture and furniture; it was influenced by the functional Bauhaus movement in Germany and minimal French Purism. Mixing these two approaches with a practical attitude and a focus on craftsmanship resulted in designs that addressed people's needs by being heavily technical and versatile, but also timeless and elegant in their simplicity. With beauty found in stripping unnecessary elements away, the Scandinavian design philosophy has become a way of life and is prominent worldwide. It fits perfectly with contemporary lifestyles and offers solutions that meet the demands of hectic urban environments, without having to compromise style for durability or comfort.
.