This List is closed to voting and commenting
The 10 Best TV Comedies of the 21st Century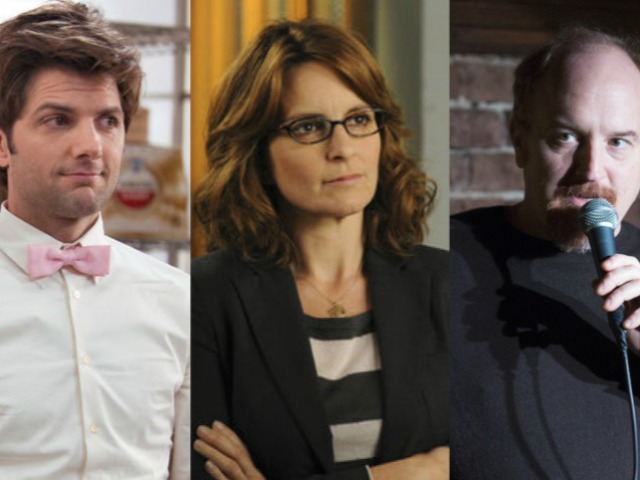 | | | |
| --- | --- | --- |
| &nbsp &nbsp 2 | &nbsp &nbsp 2 | &nbsp &nbsp 0 |
By:
Klint Jacob

The best TV comedies of the binge era — a list of great shows you'll be savoring for decades to come.
&nbsp
NBC
1998 – present

Groundbreaking for all the right reasons, David Kohan and Max Mutchnick's network multi-camera sitcom joined the ranks of NBC when their Thursday night lineup was still bonafide Must-See TV — and lived up to its slogan. The titular best friends played by Debra Messing and Eric McCormack made up half a winning casting combo, as Sean Hayes and Megan Mullally provided such iconic character work, it's no wonder people still see them as Jack McFarland and Karen Walker to this day. Ellen may have made history by coming out on TV a year earlier, but "Will & Grace" opened more minds than we'll ever know, and earned more laughs than anyone could count.
&nbsp
ABC
2001 – 2010

While this goofy medical comedy ascended to heights of lunacy and occasionally cartoonish fantasy, its humor should not be mistaken for off-color heartlessness. In fact, it was one of the shows that consistently wrung our emotions, mainly thanks to a deft hand by creator Bill Lawrence and Zach Braff's charismatic take on the lead J.D., the earnest and puppy-doggish protagonist. Its unique vision perhaps is best encapsulated by its sound, a one-two punch of quirky voiceover and a killer soundtrack. Once the musical episode hit — with all original songs and ambitious choreography — its status as one of the top sitcoms of its day was cemented.
&nbsp
FX/FXX
2005 – present

Honestly, "It's Always Sunny in Philadelphia" secured its spot on this list the second "Kitten Mittens" aired — but that's a slightly simplistic stance for a show that's only superficially straightforward. Objectively, no other satire has fruitfully tracked despicable people for as long as Rob McElhenney, Charlie Day, and Glenn Howerton have told stories about the owners and employees of Paddy's Pub. Even "Seinfeld" tapped out at eight seasons, while "Sunny" encompasses a city's morally questionable reputation with consistent glee and endless originality. Mac, Charlie, Dennis, Dee (Kaitlin Olson), and Frank (Danny DeVito) love being bad, see themselves as good, and provide episode after episode of hilarity no matter where their low standards lead them. Season 12 was one of their best ever, and there's still no end in sight.
&nbsp
NBC
2005 – 2013

"The Office" did what many could not: It actually adapted a successful British sitcom for Americans and didn't die swiftly. In fact, this iteration surpassed its predecessor in longevity and may be considered the better of the two, making a voice for itself and really establishing the mockumentary sitcom. While the dreariness of its environs may have seemed like a prison or trap, for some of these oddball characters, it was also a sanctuary, with co-workers who were just as out-of-place and maybe borderline incompetent as they. We all know a Dwight or a Jim or even a Meredith for that matter, and these relatable characters made for an immediate connection, thanks to a stellar cast and writing. The Office" allowed us to escape into a place where the biggest stakes were bittersweet laughter, but mostly it combined hilarity and heart in a way that felt honest.
&nbsp
Fox/Netflix
2003 – present

Listen, we don't know what "Arrested Development" will become, but we know this: Mitch Hurwitz upended network comedy in a such a profound way that millions of fans were clamoring for more episodes, more seasons, more of the Bluths, however they could get them, for seven years. Season 4 was a grand experiment with many highs and lows, but the untouchable original episodes exemplify so many bests it's absurd — and they were great at that, too! From deft meta comedy at its finest and to family dynamics at their most intricate, "Arrested Development" found humor in every corner of an ever-expanding model home. We'll always look forward to what comes next.
&nbsp
HBO
2012 – present

Even before the American political system exploded into a fiery ball of wafting orange flames, "Veep" was a cathartic outlet for our frustrations with Washington D.C. Scottish creator Armando Iannucci conveyed such a penetrating outsider's perspective one would think he'd worked in the White House himself, and the cast remains addictively game to lambaste the greedy array of power hungry politicians. When Iannucci left after Season 4, many expected "Veep" to take a step back. But the cast and crew (under new showrunner David Mandel) redoubled their efforts just in time for when they were most needed. Julia Louis-Dreyfus is the only actor powerful enough to keep us laughing as the world burns.
&nbsp
NBC
2009 – 2015

What started as a sisterly successor to "The Office" not only adapted into a different beast entirely, but it also surpassed its inspiration. Michael Schur and Greg Daniels' inspiring political comedy followed a diverse group of small town government workers with little else in common besides one defining bond: the desire to help people. Few characters have reached the beloved cultural stature of Leslie Knope (Amy Poehler) and Ron Swanson (Nick Offerman); so much so that it speaks to the cast's outstanding overall quality that picking a favorite is still an impossible choice. This wasn't a workplace comedy. "Parks and Recreation" was a human story that just happened to be really damn funny.
&nbsp
NBC
2006-2013

A treasure trove of talent, "30 Rock" could be goofily delightful one minute and incisively topical the next. Actually, that's not true. Tina Fey and Robert Carlock's clever mix of pop culture, political, and absurdist humor moved so quickly, its shifts have to be defined in seconds. "Laugh-a-minute" was too slow for this crew, as Liz Lemon's ongoing crusade to "have it all" — and her regular conflicts with Jack Donaghy (Alec Baldwin) — provided incredible momentum to her behind-the-scenes life on "TGS with Tracy Jordan." The onslaught of humor set a high bar for the series' many imitators, but it also embodied what the Netflix generation has come to demand of its favorite comedies: They've gotta be fast, they've gotta be funny, and and they have to be endlessly re-watchable.
&nbsp
HBO
1998 – 2004

This early feminist show was brash and unapologetic in how it presented modern women as fabulously flawed and sexual beings, who looked great… when they bothered to wear clothing. While there was some level of identification with its vibrant characters —Are you a Carrie, Samantha, Charlotte or Miranda? — the show also allowed viewers to explore the boundaries of what we may deem acceptable in our daily interactions, in the workplace our in the bedroom. Starring the incomparable Sarah Jessica Parker as writer Carrie Bradshaw, this series wasn't about breaking the glass ceiling but finding any line imaginable and crossing it with a well-placed stiletto.
&nbsp
FX
2010 – present

This FX series hews so closely to Louis C.K.'s life as a single, stand-up comedian who's trying to raise his two daughters in New York City that its mix of sad and sadder can get a bit much. But that's the beauty of the discomfort comedy, much like C.K.'s own humor. It brilliantly throws a spotlight on human nature but thrives in the awkward, absurdist shadows that are created. Through this excruciating lens, the show takes you on some strange, sometimes fantastical paths to get at the truth, which is consistently compelling.
.